AGELESS BEAUTY PROJECT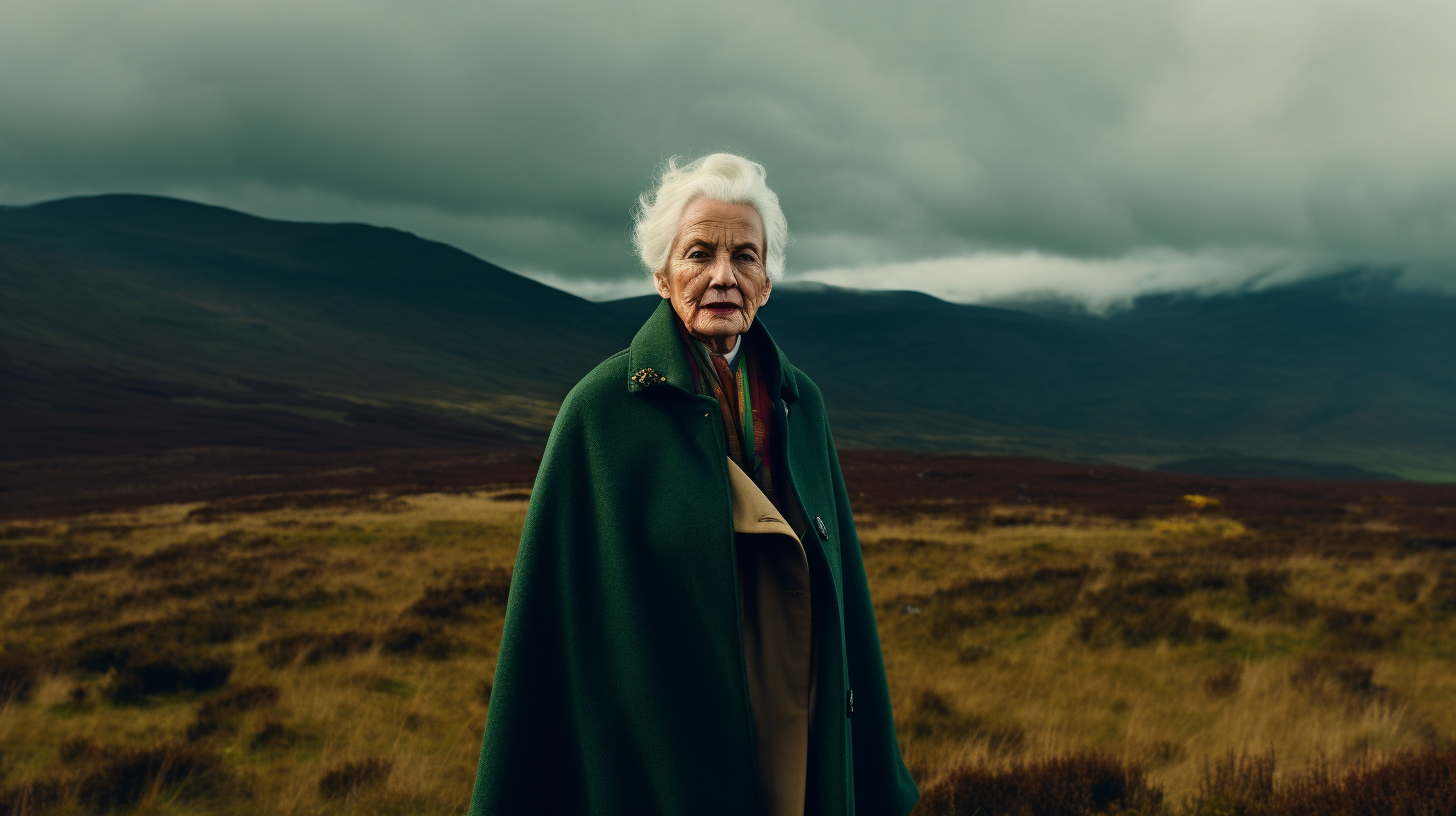 The Ageless Beauty Project
Experience an extraordinary opportunity to be part of a visionary project that celebrates the essence of 40 remarkable women, each embracing their beauty in their 40s, 50s, 60s, and beyond.
Assembling my group of 40 women, my intention is to craft a captivating coffee table book that exudes strength and captures the essence of aging. Each woman will be showcased on her own page, accompanied by her wisdom and advice that she wishes to impart. A curated set of questions will be presented to each woman, empowering her to choose the ones that resonate with her the most, enabling her to share insights that possess the potential to ignite inspiration in others. These responses will beautifully adorn the pages alongside their captivating portraits. I believe that this project will stand as a wellspring of motivation for women navigating their own unique journeys of self-discovery and growth.
Will you be one of the remarkable women I have the privilege of photographing?
Join us in honoring remarkable allure, unwavering strength, and wisdom possessed by women aged 40 and beyond.
Hello, my name is Meranda Devan, and as a composite photographer of Northern Idaho, I have dedicated myself to creating beautiful visuals, full of color and intrigue. What I really would like to tell are stories. I firmly believe that women need to hear each other's narratives, to know that they are not alone on their unique path of self-discovery.
Can you recall that significant event in your life?
Imagine this: every woman, including you, has experienced a transformative moment that forever altered her perspective. It's moments like these that define us, shaping our outlook and understanding of the world.
In her forties, a woman finds herself at the crossroads of wisdom and maturity. It's a time of transition, where life takes unexpected turns. Children leaving home, career shifts, and the reevaluation of life goals can evoke a whirlwind of emotions – excitement, uncertainty, and even a sense of loss. In this juncture, women seek their purpose, their calling, and yearn for guidance along their journey.
As a woman enters her fifties, she embarks on a profound journey of rediscovery. With shifting responsibilities and life changes, she finds herself exploring new interests and passions. This newfound rejuvenation inspires her to venture into uncharted territories and embrace fresh experiences. Moreover, she begins to redefine her identity, unveiling a wiser, bolder version of herself.
Now, picture a woman in her sixties, basking in the desire to explore new destinations and embark on daring adventures she may have once set aside. At this stage, personal reinvention becomes a driving force. With self-reflection as her compass, she eagerly unravels new dimensions of her identity, reevaluates priorities, and wholeheartedly embraces the freedom and self-expression that this chapter of life offers.
As a woman enters her seventies, she finds herself celebrating milestones and cherishing the creation of everlasting memories. The journey of life remains continuous, but her focus shifts toward treasuring moments shared with loved ones. Quality time with family, friends, and those closest to her heart becomes paramount. Engaging in meaningful conversations brings her immeasurable joy and fulfillment. Her children, grandchildren, and cherished companions are her most cherished treasures.
Have you experienced a life-altering event?
Your story is worth telling, and through the lens of my camera, we can let your story be heard, cherished, and shared, because every woman's journey deserves to be celebrated.
HOW MUCH DOES IT COST?
I am offering the Beyond 40 special promotion package for just $490. The total value is over $740.
16' inch Round Wall Portrait
In this special offer, you will receive my signature 16 inch round wood wall portrait. The photograph above is of my living room, and gives you a realistic idea of the sizing.  During the ordering session, you can see all the photos I have taken with you, and you can order additional prints or products during that appointment. During the last part of our photography session together, bring someone with you and we can take some photos of you with them.  Maybe it is your best friend, a sister, a daughter or your husband. The session includes makeup, so you can make it a night out for dinner or a movie after your photographs are complete.
Our Process Together
As one of my Beyond 40 women, here is what you will experience:
Personalized Pre-consultation:
04.
Prior to your photo shoot, you will have the opportunity to discuss your vision with me. We will delve into the details of how you want to be photographed, including outfit choices and any specific preferences you may have. We can brain storm together with the use of AI, to create some ideas of what your dream portrait looks like, upload them to pinterest in a private page and gather together a clear idea of the images we want to achieve.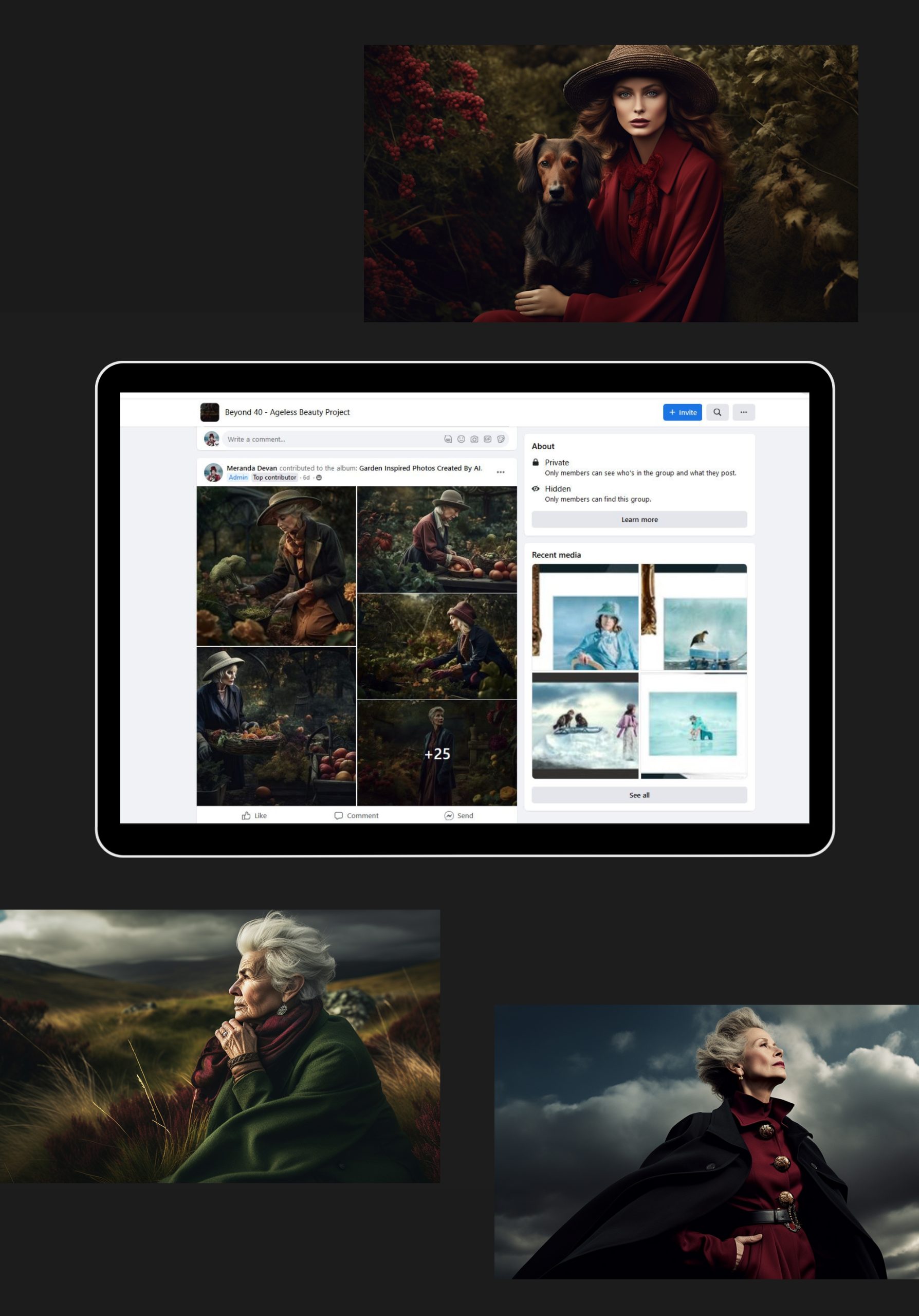 With the help of AI, I have the ability to create precisely what captivates your interest. Whether your desire is to be surrounded by a vibrant arrangement of flowers in a garden or to stroll through a picturesque field, I can bring those visions to life. If you have a specific aesthetic in mind, we can collaborate and explore various ideas to transform it into a reality. In my private Facebook group, I share an assortment of concepts, sparking your imagination for what could be achievable.
On the day of the photo shoot, our professional makeup artist will pamper you, leaving you feeling absolutely radiant and confident. During the session, I will personally guide you through the poses we want to capture, ensuring that facial expressions to the tips of your fingers are captured beautifully and authentically.
Reveal and Ordering Experience
04.
Following the photo shoot, we will arrange a special session where you can view all your stunning photographs. In this special offer, you will receive my signature 16 inch round wood wall portrait. Should you wish to acquire additional prints or products, you will have the opportunity to do so during this session.  Click on the button below to see what additional products I offer.
Many women find your journey and story incredibly inspiring, and they believe it should be shared. Once the photo session is complete, I will email you a set of carefully crafted questions. You have the freedom to choose which questions best reflect your remarkable life story and journey, which we intend to include in our upcoming book. If you give your consent, we would love to showcase one of your captivating photos alongside your insightful response, offering valuable life advice to other women, through our various social media platforms.
Join us for an unforgettable experience that celebrates your unique beauty and accomplishments. You deserve this special treatment as one of our esteemed 'BEYOND 40' women.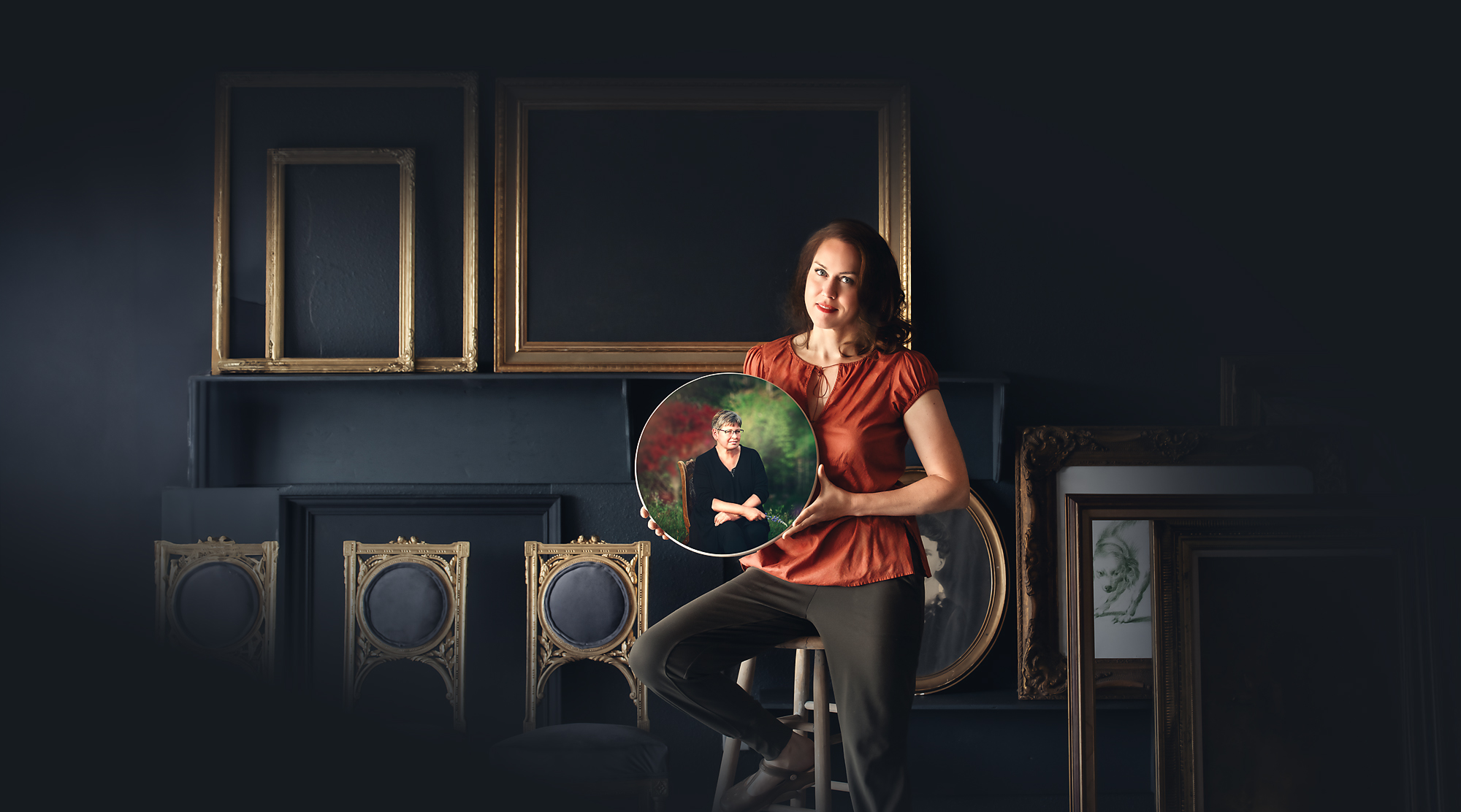 Hello, this is me, with the beautiful 16 inch portrait you will receive from this Beyond 40 Beauty Campaign.
Allow me to introduce myself. I see myself as a woman who appreciates the forgotten skills of our world. The traditional values that some may consider outdated are the ones I find interesting. If I could go back in time, I would want to learn the skills my great grandmother acquired. Wouldn't you love to interview some of the women in your generational family tree?   As a photographer, I honed my craft after the birth of my daughter. Since then, I have pursued composite art, selling my creations online. As a composite artist, I digitally enhance photographs by altering backgrounds, adding elements, and refining skin imperfections, transforming them into unique pieces. My ultimate goal with this project is to create a cherished piece of art for you. However, it is not solely my vision but yours as well is what matters to me. I strive to capture your vision and merge them into an artwork that you will hold dear and admire for years to come. Let's collaborate on this endeavor.
AGELESS BEAUTY PROJECT
Will you be one of the women I have the privilege of photographing?