Collections
Learn about my collections and my process here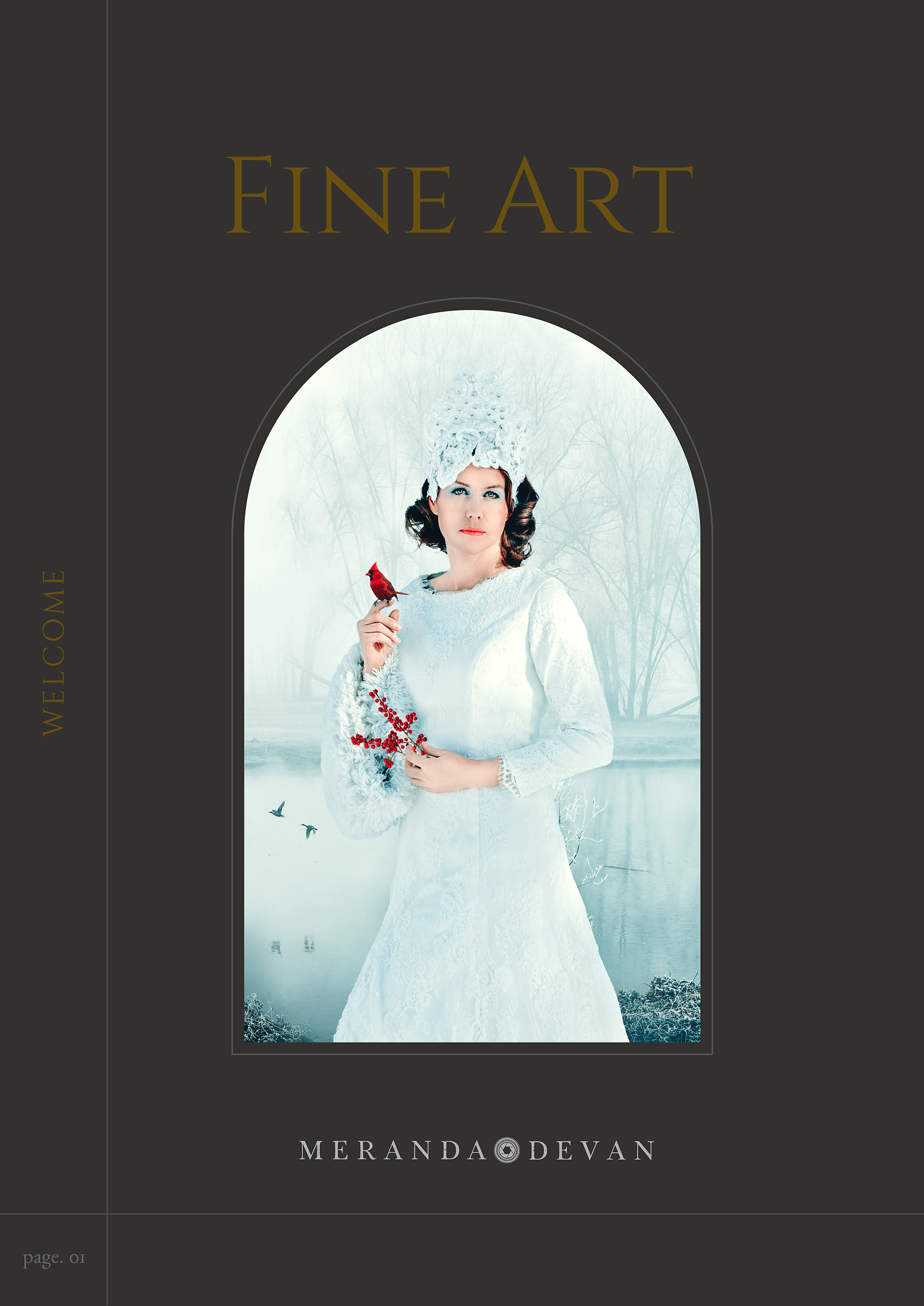 I am thrilled that you have taken the time to express interest in collaborating with me on a project.
I believe that every person I work with deserves the best that I can offer, and so I take on very limited clients per month.
I really strive to tailoring my approach to meet your specific vision.
– Meranda
info@merandadevan.com

My Portfolio
As an editor, my aim is to infuse a cinematic touch that evokes a sense of awe, with enchanting blurs and vibrant hues that elevate a photo.
My Blog
Explore my blog, where you'll find an array of projects that I'm currently working on. From the art of editing to the realm of photography, it's all there to show you what my creative journey is like.
Custom Composite Work
I specialize in creating custom projects for commercial graphic design and composite work. By blending existing photographs, I have the ability to craft one-of-a-kind pieces of art. To explore examples of these projects, please follow the link provided below.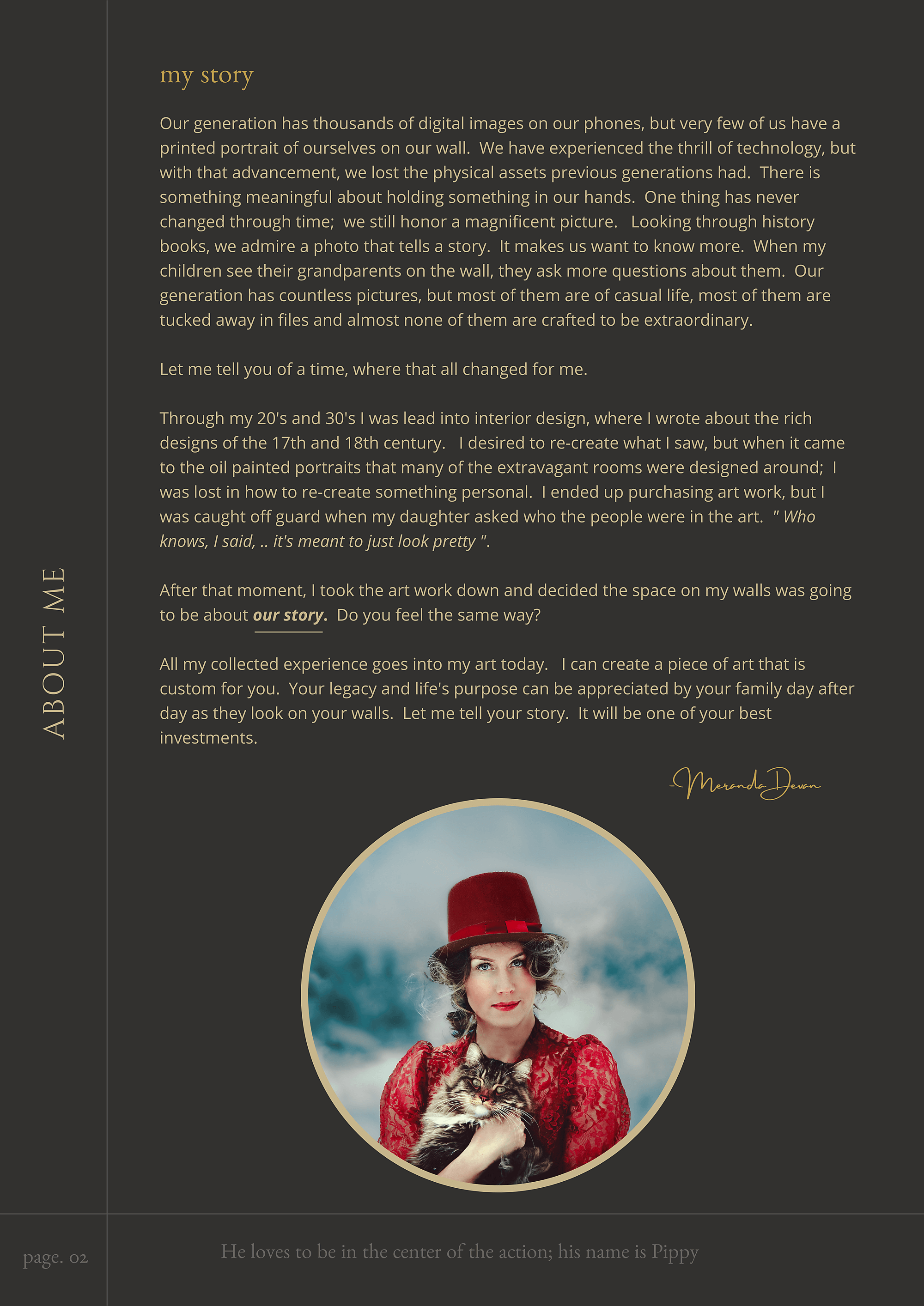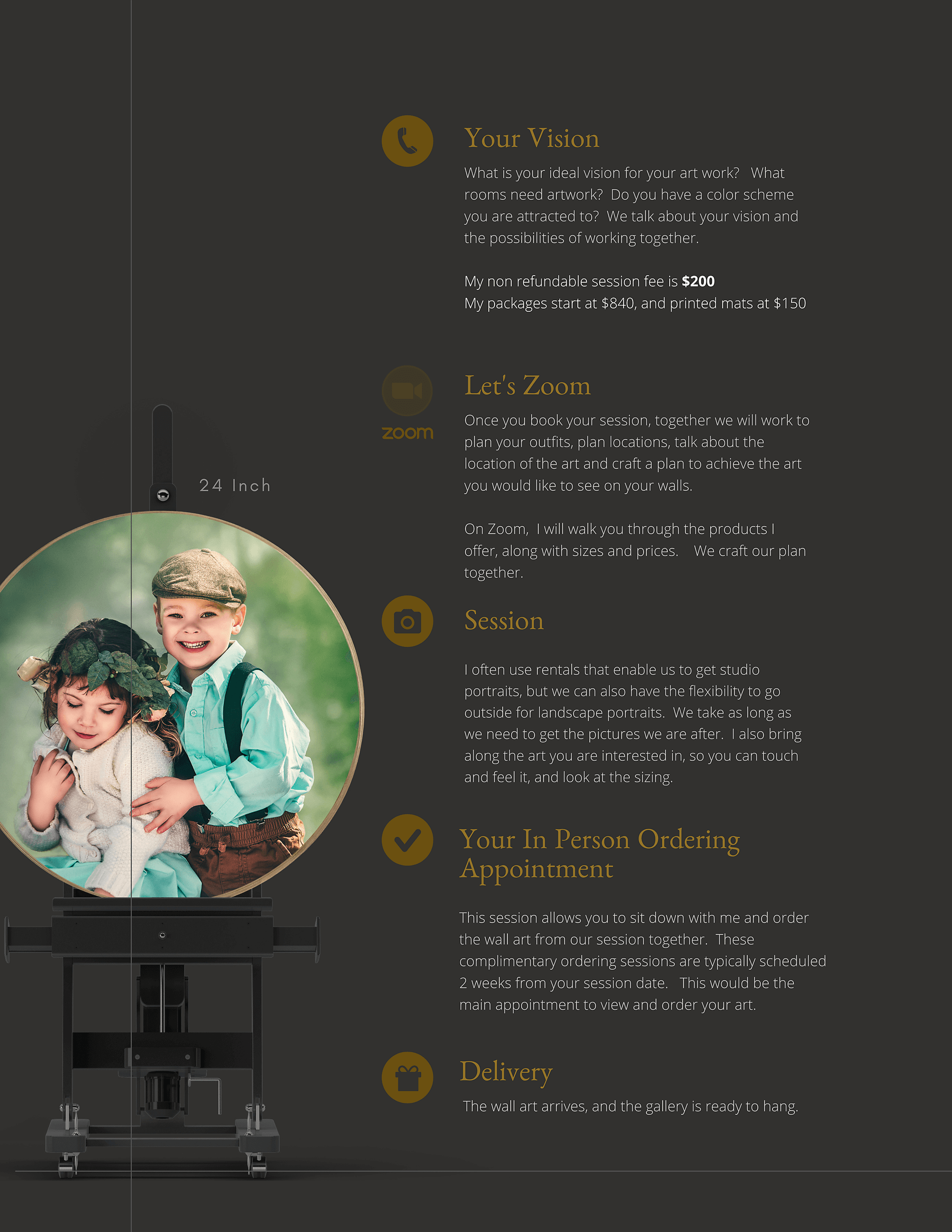 The Session Fee
The start of our process together
02.
I'd like to explain the session fee and how it works. The session fee is a standard charge that covers the time and expertise I invest in capturing the project you are after. It's a professional fee separate from the cost of prints or art work create.
Here's what the session fee typically includes:
Planning and Consultation: Before the session, we'll have a consultation to discuss your preferences, ideas, and any specific requirements you may have. I'll use this time to understand your vision and ensure we're fully prepared for the shoot.
Photography Session: On the scheduled day, I'll dedicate my time and skill to capturing the best possible images for you. This includes setting up equipment, selecting suitable locations, directing poses (if applicable), and utilizing my artistic expertise to create stunning photographs.
Editing and Retouching: Once the session is complete, I spend additional time carefully selecting and enhancing the best images from the shoot. This process involves professional editing, retouching (if requested), and ensuring the final images meet the highest standards of quality.
Viewing and Ordering: After editing, we'll schedule a viewing session where you can see the final images and select your favorites for printing.

It's essential to note that the session fee doesn't cover the actual products. Those items are offered separately, allowing you to choose exactly what will suit your needs. The session fee compensates me for my time, expertise, and the effort put into creating and delivering an exceptional product for you.

Products & Collections
03.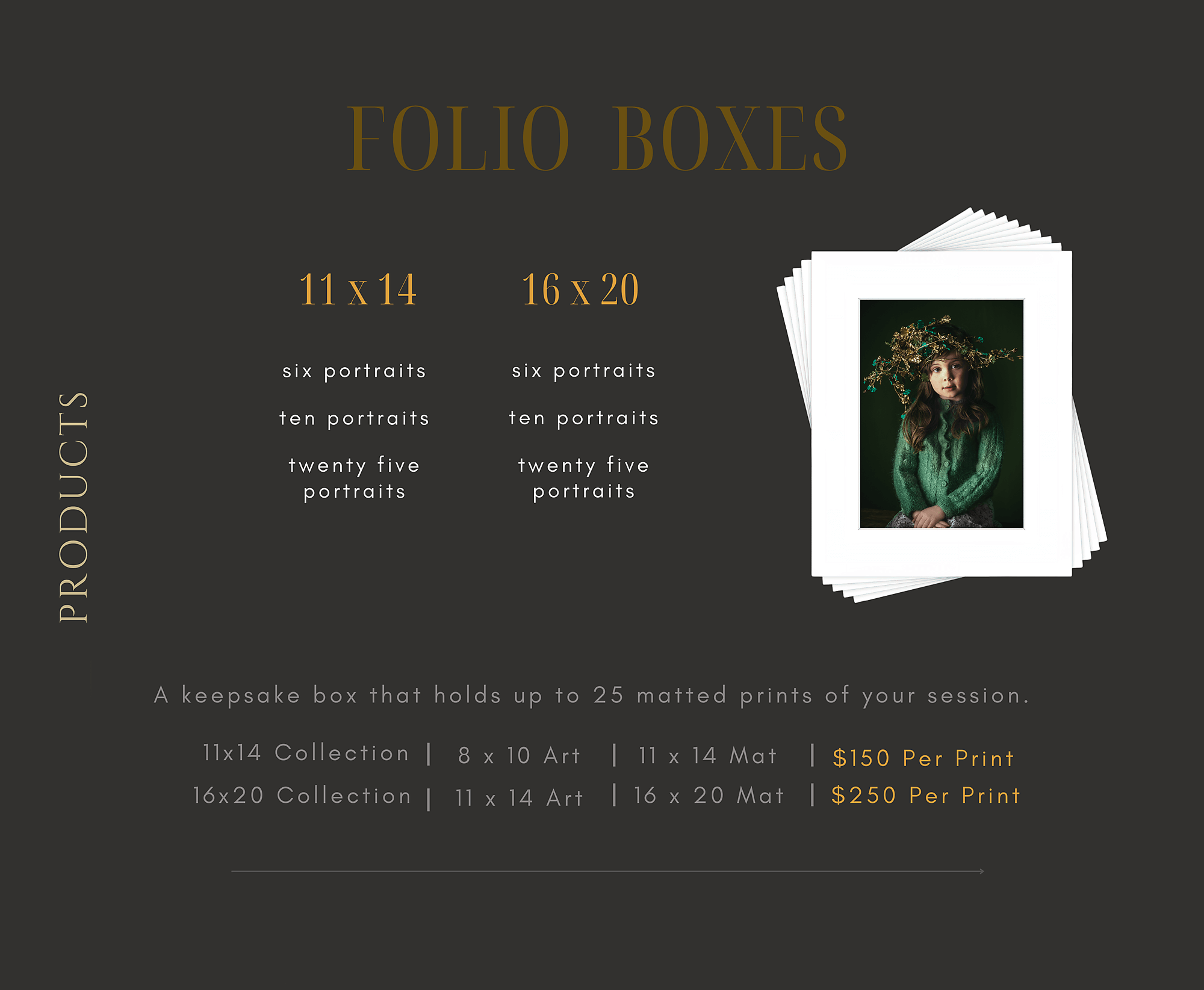 Folio Boxes have gained in popularity due to their incredible versatility. I offer two distinct collections that I invite you to explore.
The first option is the 8 x 10 print accompanied by an 11 x 14 mat, which stands as the most popular choice. This size strikes a perfect balance, enabling you to curate captivating gallery walls with groupings of images. Imagine the visual harmony achieved when these prints are elegantly showcased on a single wall or displayed on a standard bookshelf. Additionally, an 11 x 14 picture effortlessly finds its place on your bedroom nightstand, adding a touch of elegance. This collection is available in sets of 6, 10, and 25 portraits. If you opt for the set of 6, each print is priced at $150. However, as you increase the quantity, the price per print decreases to $100, delivering exceptional value for purchasing larger quantities.
Folio Collection Sizes
02.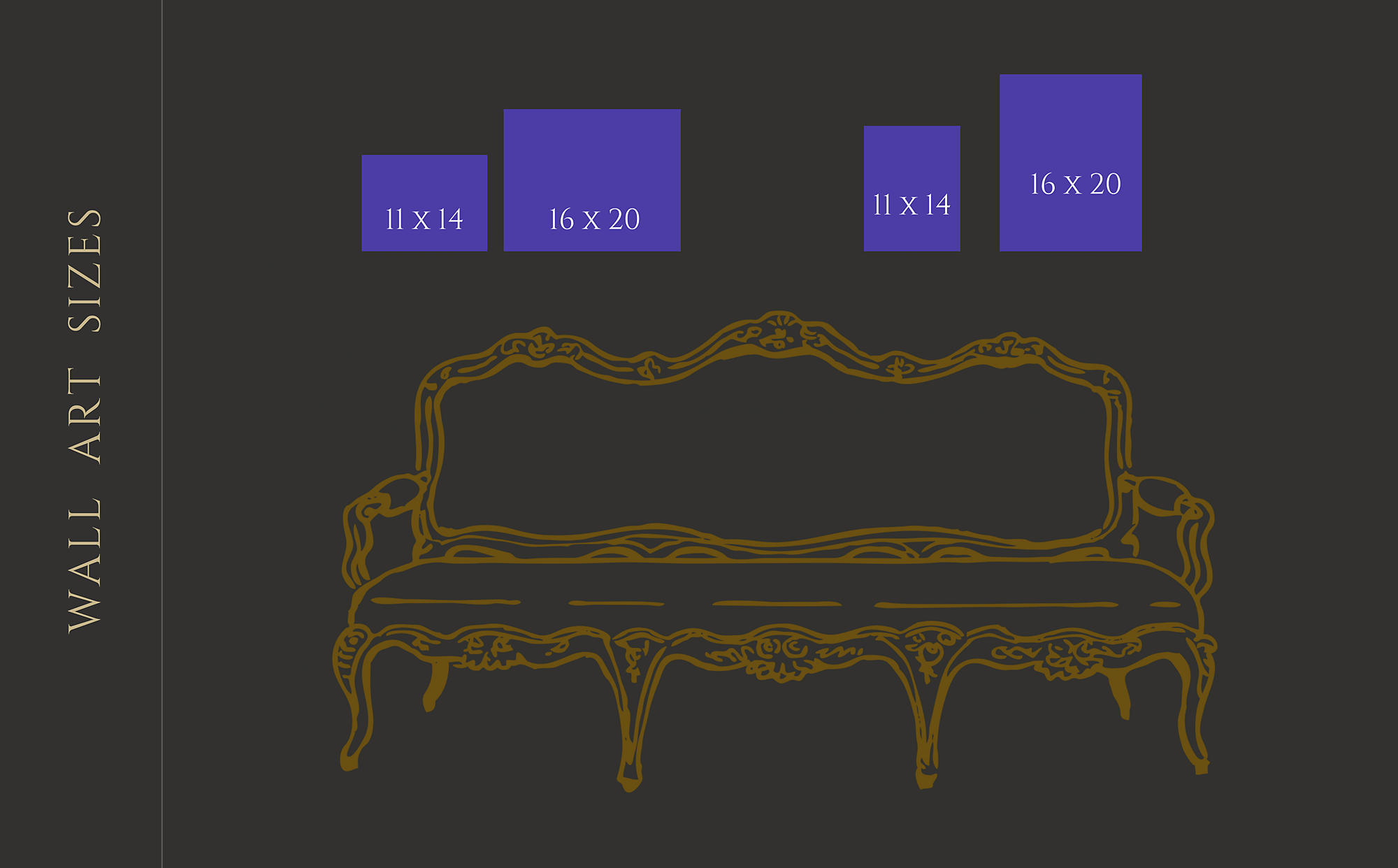 Folio Boxes - Collection 2
03.
Unlike most photographers who provide only one size for their folio box, I have decided to offer a larger option to accommodate those who appreciate bigger prints.  This collection features an impressive 11 x 14 print elegantly paired with a 16 x 20 mat. Designed specifically for individuals seeking grander images, this selection allows you to showcase your favorite photographs prominently on your wall. Whether you choose to display a single image as a focal point or arrange sets horizontally or vertically, the possibilities for creating stunning visual narratives are endless. Moreover, you have the freedom to break up this folio box, using its contents to curate distinct collections in different rooms, each telling its own unique story.
Each print in this collection is valued at $240, but in the largest collection, the price drops to $200 per print. Once again, the more prints you purchase, the greater the value you receive. These stunning prints are elegantly framed in acid-free mats and encased in a sophisticated black box, also acid-free. With these mats, you have the freedom to choose your own frames, whether you desire a uniform look throughout your house or prefer to curate diverse frame styles to create captivating collections in different areas of your home. This flexibility also makes them perfect for dividing and presenting as thoughtful gifts during the holiday season.  Any collection you purchase comes with a matching social media sized digital file.

Products & Collections
03.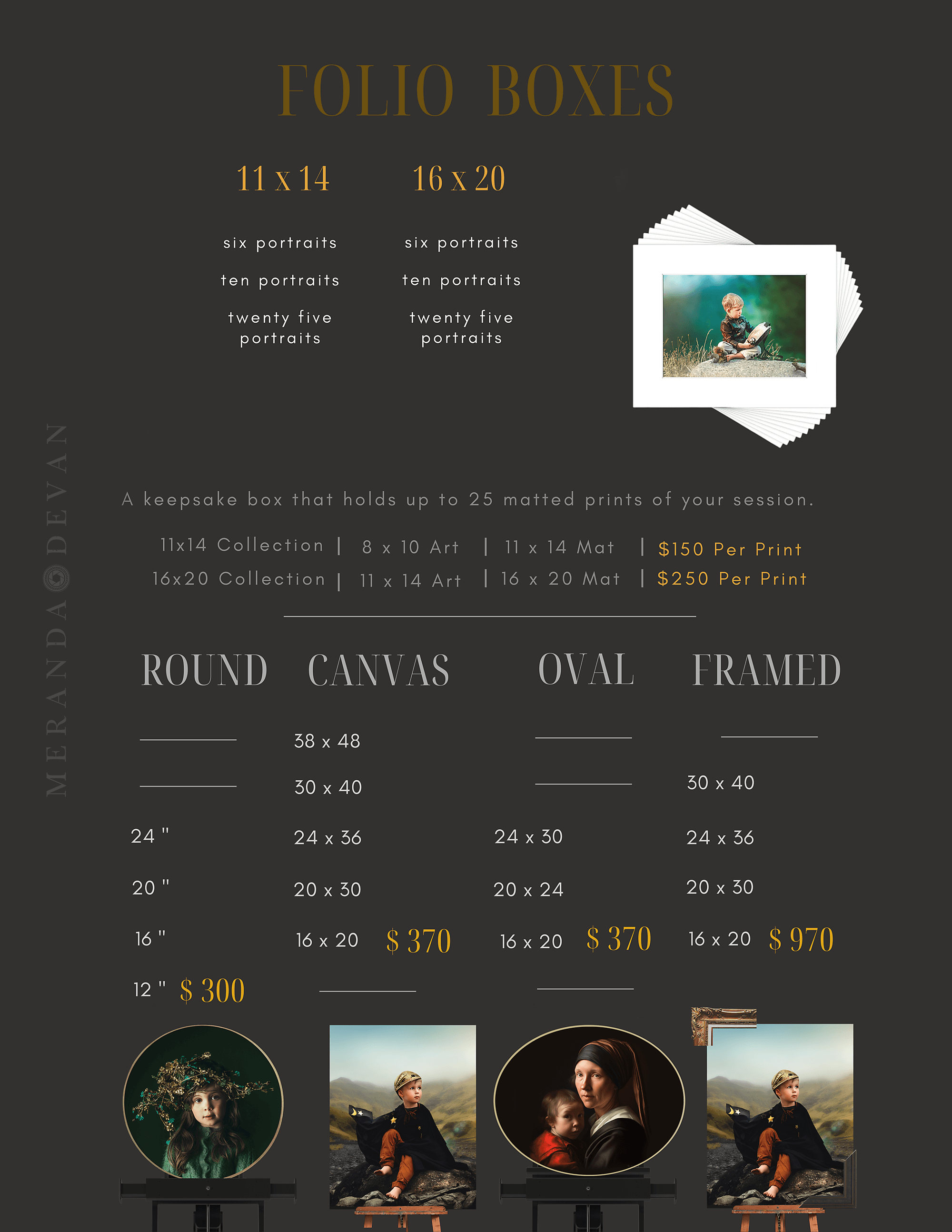 Products & Collections
03.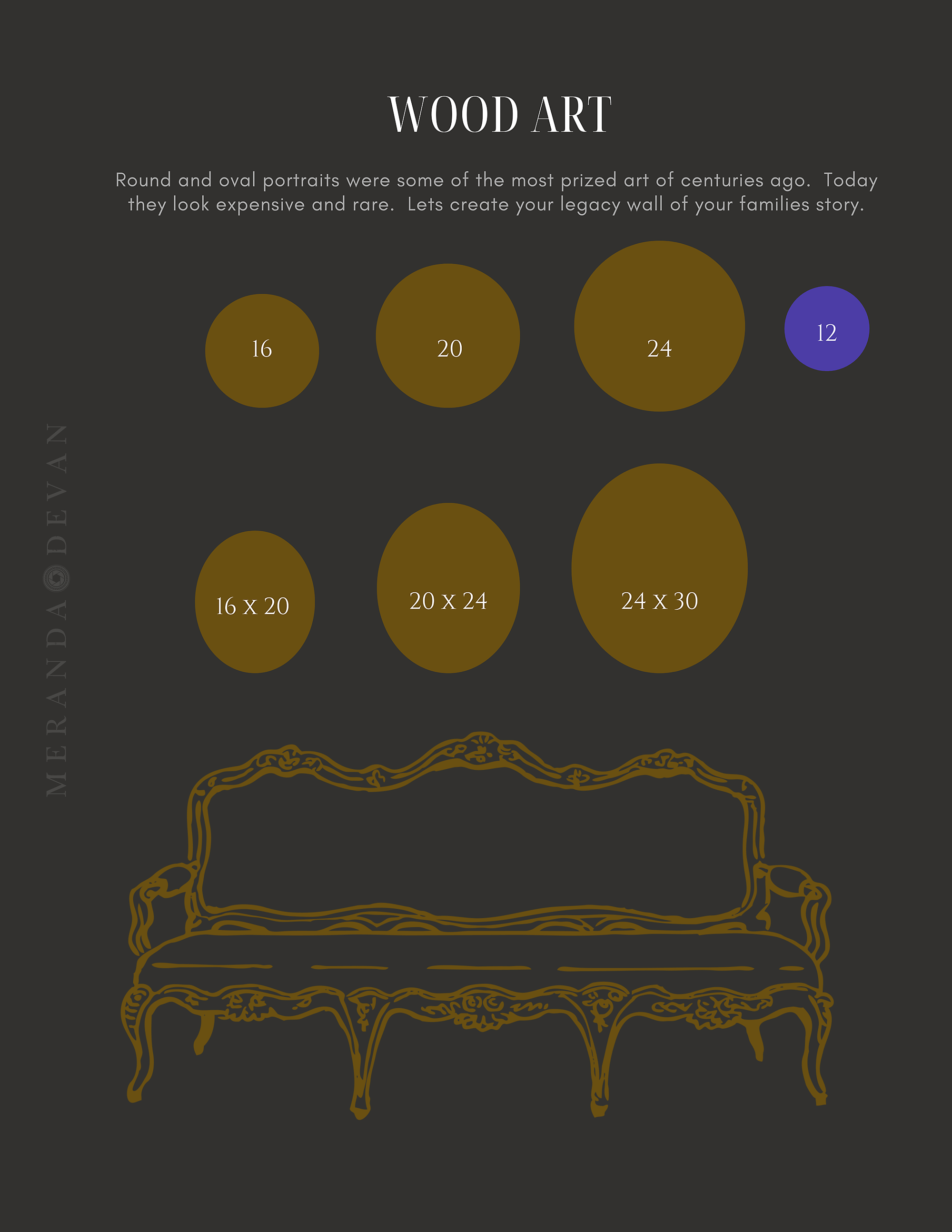 While I prefer to discuss pricing during my session appointments, I believe in transparency and would like to provide an overview of what I offer. I strive to simplify the selection process, allowing you to choose what truly captures your interest.  I aim to maintain consistent pricing across all options, empowering you to make a choice based on your personal preferences, rather than focusing on price.
Products & Collections
03.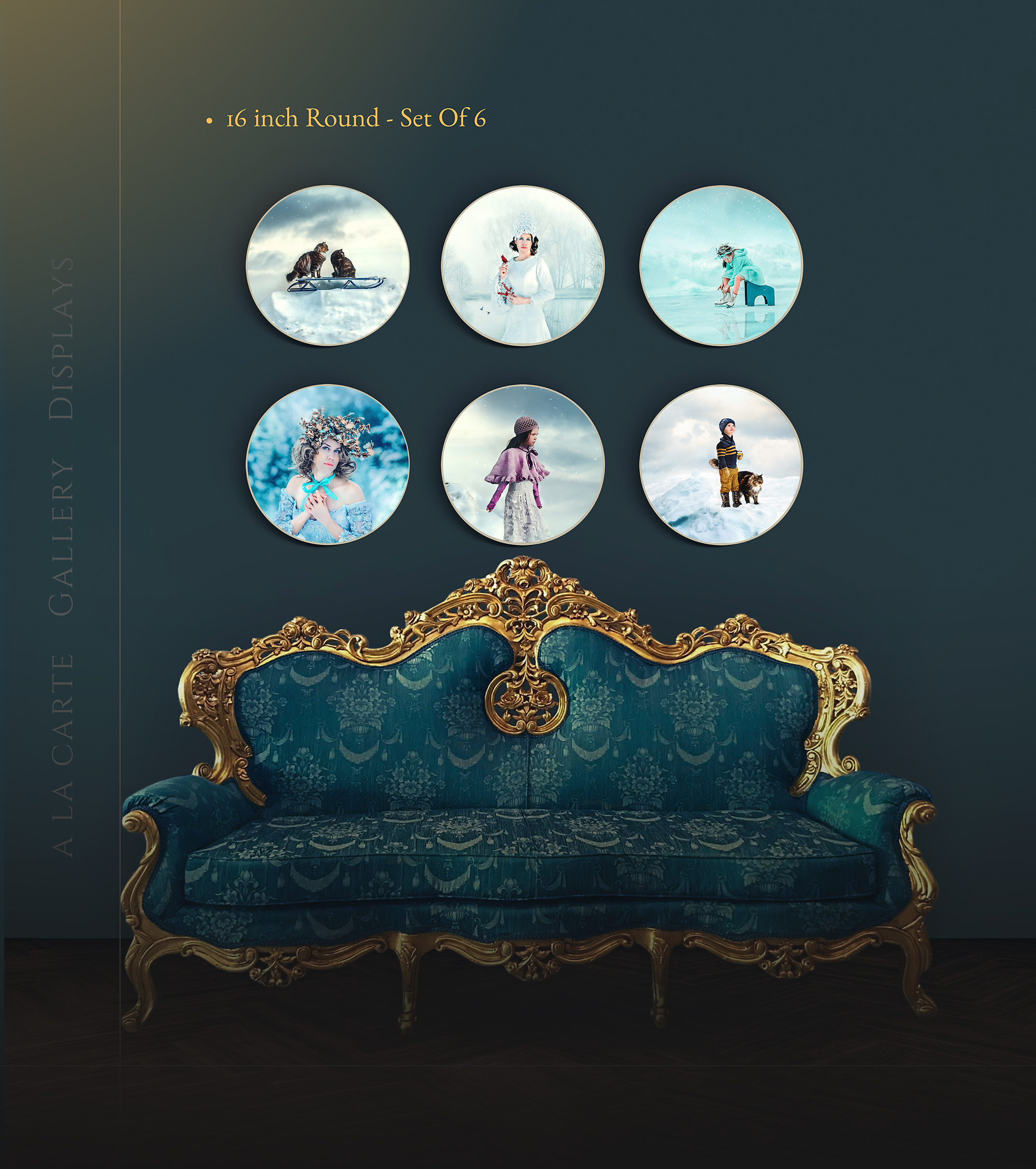 I specialize in a unique product: a canvas mounted on solid wood. This exquisite look is available in both oval and round shapes. When I first encountered this design, I immediately fell in love with it and decided to perfect it for my own home. What truly convinced me to embrace this product was its effortless wall-hanging feature, requiring minimal effort to hang art on your wall. It also reminded me of the grandeur oil paintings found in affluent homes during the 1700s and 1800s, often presented in round and oval formats. With the 12-inch and 16-inch wood portraits, you can create stunning gallery walls, while the 24-inch portraits can be showcased individually above a mantle, in a walkway, over a buffet, or above a bed. 
Products & Collections
03.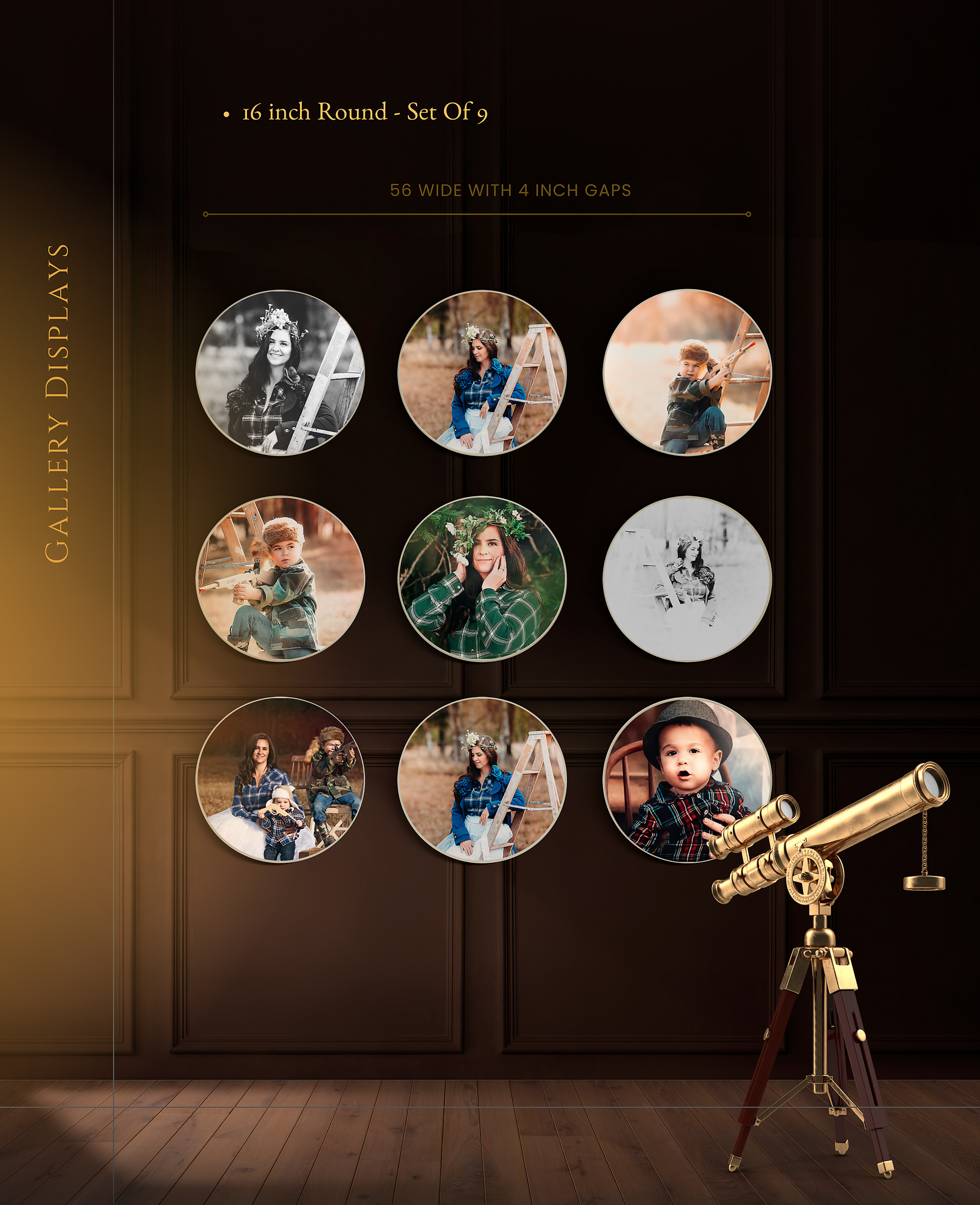 Products & Collections
03.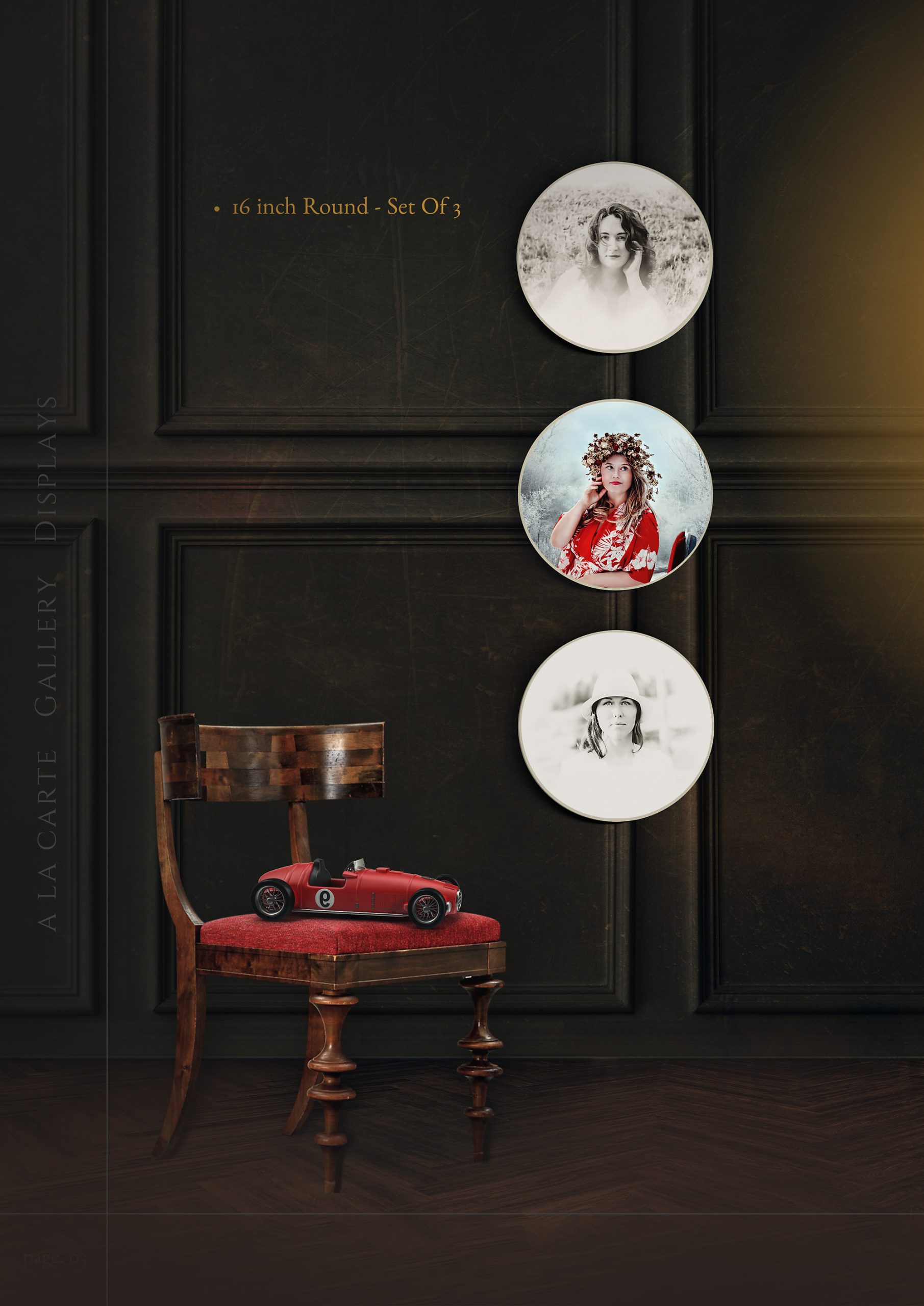 Products & Collections
03.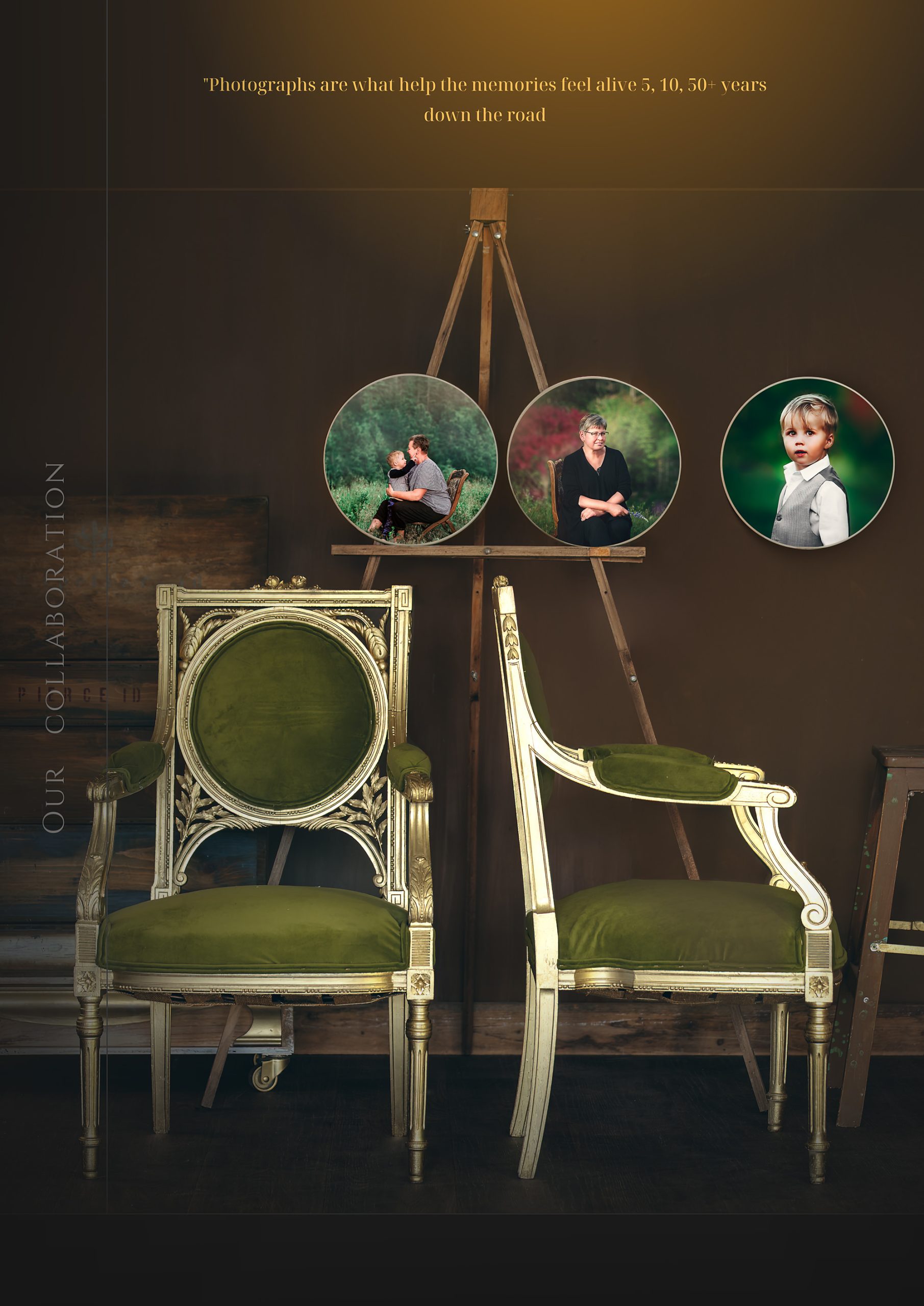 Thin & Thick Canvas Art
03.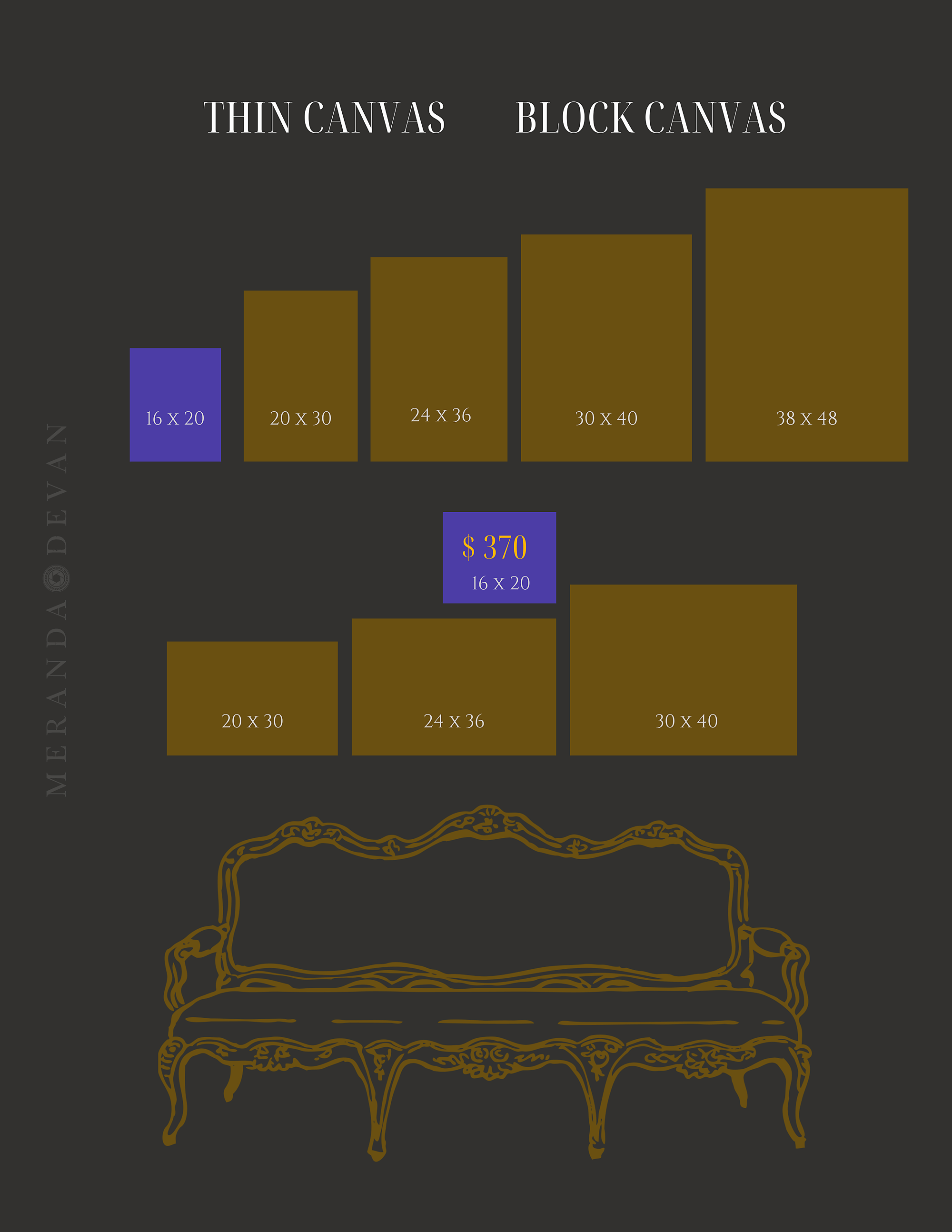 Thin & Thick Canvas Art
03.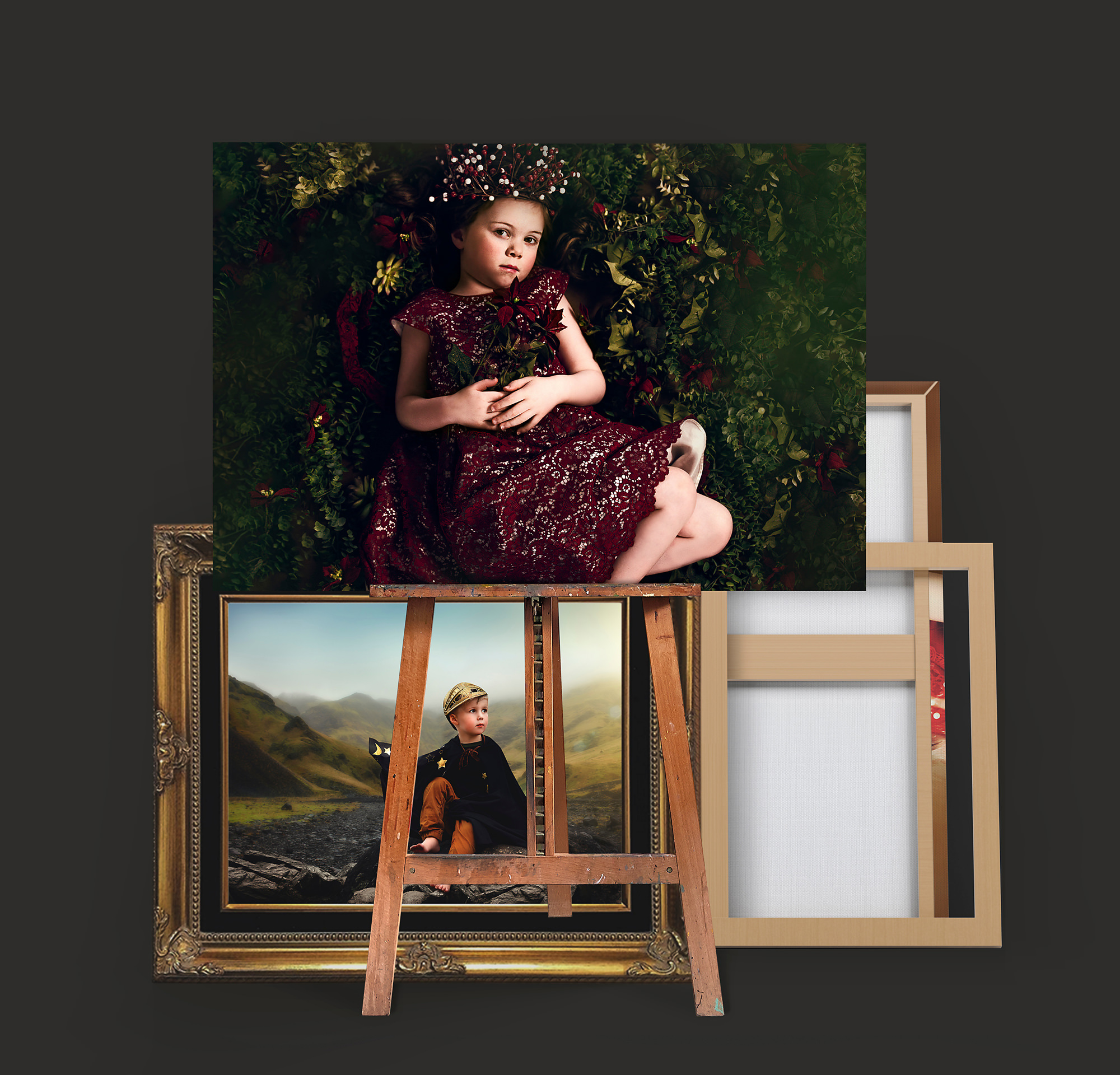 Thin & Thick Canvas Art
03.
In addition to selling canvas, I offer a unique product in my lineup that sets me apart from others: THIN canvas. As a frame snob, I personally appreciate heavy, baroque museum-grade frames that are magnificent all on their own. I often discover these frames while exploring antique shops, where they can be quite expensive if purchased through a framing store. However, you can find them at more affordable prices on platforms like eBay, etsy or in local antique stores. If you come across a frame that captivates you, I can create the perfect artwork to complement it.
The thin canvas I provide is specifically designed to fit within a frame while still maintaining its durability. Unlike traditional artwork, it doesn't require glass protection due to its textured canvas surface. Additionally, I also offer boxed canvas, which is mounted on a wood composite. This ensures that the art retains its shape over time, preventing any sagging issues. It's conveniently ready to hang with minimal effort.
Take a look at the offerings I provide, and if you have a specific style or vision in mind, we can collaborate to bring it to life. Feel free to contact me below, and let's have a chat about your unique project. I am here for you, and we can make this process very simple and enjoyable.